10 clothing brands to follow in 2021 for menswear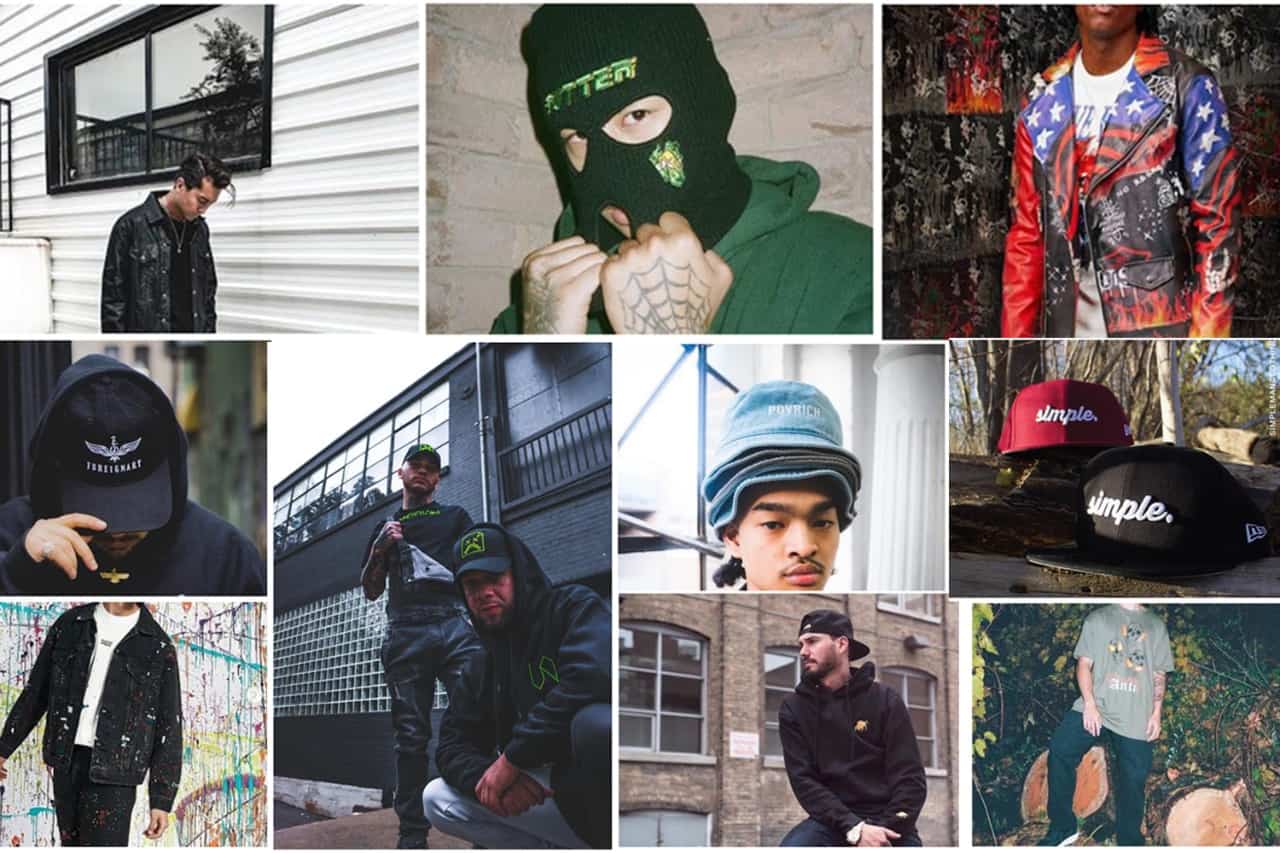 New York City, NY, April 23, 2021, Menswear is a dynamic industry. With the introduction of new brands and ever-changing fashion trends, the search for the perfect outfit has become increasingly overwhelming. The quarantine has also had an impact on the way we shop; accelerating the transition to a more digital word and removing the hands-on feel of retail therapy, it's become harder than ever to discover new styles you love. To make it easier for you, we have compiled a list of Top 10 Men's Clothing Brands you must follow in 2021 that you can easily shop from the comfort of your own home.
Kollar Clothing
@davidkollar
David Kollar is the founder and designer of Kollar Clothing: a multi-million dollar fashion brand that's been seen on Steph Curry, Shawn Mendes, Young Thug, Chris Paul, Gunna, and more. David came to Canada at the age of seven after emigrating from Slovakia and had a difficult childhood. struggled with school and eventually dropped out. That didn't stop her dream of achieving something big though. Passionate about the clothing industry and passionate about rentlets, he created an international fashion brand which he leads with pride. Kollar Clothing debuted at New York Fashion Week 2020 and become a widely recognized streetwear brand around the world. David is now very knowledgeable in the industry – understanding the underlying desires of his consumers, he advises designers who "Fashion changes rapidly and radically. I feel like with COVID and lockdowns still on the rise, the way brands will create products and consumers will buy is no longer a seasonal collection. I think brands and consumers are looking more for exclusive small capsule drops that create surprise and exclusivity.
Butter on the commas
@butteronthecommas
Founded by Donn Jacob, of Toronto Butter on the commas continues to fuse the culture of vintage street fashion into today's modern world. Creating urban pieces ranging from ready-to-wear and accessories to innovative home décor, BOTC tells a poverty-to-riche narrative that extends its vision of streetwear into a lifestyle regimen. As seen on big names such as Los Angeles' Guapdad4000 and New York fashion icon Maria Beltre, BOTC is becoming widely recognized for its raw approach to the industry. Serving its community initiatives and providing couture to represent the world we live in, BOTC is a go-to brand to complete your wardrobe in 2021. Butter encourages others to unfollow and instead to "Follow your own advice. In a superficial world, stay true to yourself, wear what you want and align your personality with your wardrobe. Most importantly, avoid margarine and choose butter.
Reason Clothes
@Reasonclothing
Reason Clothes offers a wide variety of ready-to-wear clothing and accessories such as t-shirts, caps, woven shirts, knitwear, premium denim and outerwear. Each garment produced under the Reason Clothes is designed with integrity to ensure a quality product that can be enjoyed for years. Founded in 2004, Reason Clothing creates clothing lines for men and women committed to representing signature New York fashion that is available to consumers around the world. Reason Clothing prides itself on its brand on exclusive collections, produced in very limited quantities, so that every consumer is not just buying a fashionable garment; but an exclusive staple that allows them to stand out from the crowd and truly embody their unique sense of fashion.
Foreign
@foreign
Foreign is inspired by foreign visionaries. Their story begins with those who have endured the sacrifice it takes to move to a foreign land following difficulties with the vision of a better life; risking their lives, leaving everything they know – to create something more. Influenced by the hardships and sacrifices made, Foreingnary's goal is to raise awareness and honor those "outsiders" who have taken this leap of faith. Through high quality clothing, they aim to create an environment that provides these people with a platform to express themselves and honor those around them. An inspiration to all, Foreingary's advice to others is to "Always remember your reason and your mission behind what you wear. Anyone can design cool clothes, but consistency, dedication, and acknowledging your sanity simply trumps something cool that doesn't make sense. What you wear represents who you are and what you stand for.
Mode unavailable
@unavailablefashion
Mode unavailable is a streetwear brand founded in Toronto, Canada by Nick Lee and Thomas Lowry. Expressing their passion through the creation of limited designs, they set out to create a brand that instills an exclusive and "unavailable" feeling in their consumers; something different from the rest. Promoting both everyday essentials and exclusive styles, Unavailable Fashion caters to those looking for an original style that stands out from the crowd. With a mission to redefine the status quo of mainstream fashion one step at a time, Nick and Thomas aren't just designing a line of clothing, they're designing an unattainable lifestyle within reach. Adding to the exclusivity, each collection is very rare and only a small number of items are released to the general public. Their advice for people looking for a similar lifestyle is to "always have fun when it comes to your outfits and design, don't be afraid to break boundaries".
POVRICH
@povrich
POVRICH c/o AHNIEL LEE is a unique streetwear brand that artistically conveys a stylish and refreshing representation of modern culture. Guided by the mantra "A work of art worn on the body of a walking canvas", POVRICH offers fashion-forward clothing that promotes individuality while presenting the body as essentially a canvas for a work of art. All products are inspired by imaginative concepts that continue to push boundaries while effortlessly redefining contemporary streetwear. Creating unique and inventive designs for their consumers, POVRICH provides an expressive outlet to display the current era through artistic clothing that resonates with the modern individual. Their advice for 2021 is to "create without fear!which they bear witness to each season with their disruptive and original collections.
End Clothing
@end_clothing
Inspired by a team of individuals who share a love of menswear brands, TO FINISH was founded in 2005 as a solution to the limited number of high-end menswear retailers. Originally from London, TO FINISH has become a technology-driven retailer that provides a global audience with access to high-end menswear, luxury designers and exclusive sneakers through their e-commerce platform. END employs a multi-faceted team immersed in the fashion industry to deliver the latest trends while displaying groundbreaking campaigns and activations that showcase their passion for the products they offer. END spares no effort in sourcing the finest clothing, footwear and accessories available, curating a conglomeration of some of the world's most sought-after fashion brands. Whether you're shopping for new spring essentials or shopping for the hottest new sneaker trends, END launches and promotes over 1,500 products a week – ensuring a signature style for every consumer and consistently keeping an eye-catching length. ahead of its competitors.
12 signs
@12sign5
12signs is a clothing brand that dedicates its designs to various zodiac signs that each of us represents as individuals. Consumers tend to fall in love with a product that matches their personality or something that associates a special meaning with them. While effortlessly conveying their values, the vision behind 12signs it is freedom of expression. Founded in 2018 by Daniel Moura, 12Signs has since expanded its brand to include high-quality apparel, swimwear, beanies and hats for men and women – diversifying their offerings to cater to all audiences. 12Signs' customer base is comprised of horoscope enthusiasts, and their brand further creates an exclusive community of fashion lovers as well as devotees. The mission behind 12Signs is to create a market for luxury yet affordable apparel that allows you to look your best while creatively expressing yourself in fashion that has deeper meaning than an essential or graphic t-shirt. No matter where you live, 12Signs ships worldwide and encourages others in 2021 to "Find the style and your matching sign in 2021".
Simple Men's Clothing
@simplemanclothingco
Simplicity is the greatest form of sophistication. simple man is a brand that promotes appreciation for the simple things in life. "A Simple Lifestyle" are the words we live by and are represented through our designs and creations. We pride ourselves on the quality of what we produce and strive to remain consistent throughout the year.
Anti.Toronto
@anti.toronto
Anti Toronto was founded on the basis of a break from the traditional norms of Toronto streetwear and reflecting individualism. Focused on combining Toronto's urban street culture with nostalgic childhood concepts, Anti Toronto turns imagination into realization through distinctive custom designs that stay true to yourself no matter what. social trends and popular opinions. In an effort to change the negative connotation of the word 'anti', Anti Toronto, on the contrary, promotes an opposing culture and challenges the definition of normality by offering individuals a means to freely express themselves. With the advice "There are no rules for fashion, wear what you want, wear what you like, wear what makes you feel good" Anti Toronto embodies the lifestyle their clothing represents and is a must-have brand for 2021.
Presented by: DN News Desk