Apparel makers in Asia face challenges as the industry evolves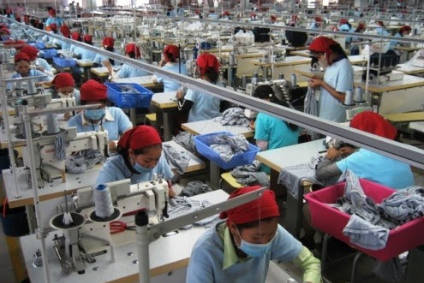 The ILO report calls Asia the "garment factory of the world", but also warns that the sector faces a range of challenges, many of which have been accelerated by the Covid-19 pandemic. Challenges include rising labor costs, automation of production and processes, "offshoring" and "close to offshoring", as well as increased pressure to move to a more sustainable company, with better wages and working conditions.
'Employment, Wages and Productivity in the Apparel Sector in Asia: A Review of Recent Trends' examines employment, wages and labor productivity in the Asian garment sector over the period 2010-2019 and highlights that the industry still accounts for 55% of global textile and garment exports and employs some 60 million workers.
David Williams, director of the ILO's program on decent work in garment supply chains in Asia, says that while in many countries the sector has seen growth in both wages and productivity, the relationship between government policies and external forces is not always clear and simple.
"Backed by genuine support for social dialogue and collective bargaining and concrete incentives from brands, the industry can create a virtuous circle in which higher wages lead to higher productivity, and vice versa," says Williams.
The report highlights the evolution of the sector following different trajectories across the region. While economic diversification and modernization has reduced its importance in countries like China, Thailand and the Philippines, it remains the main economic driver in countries like Cambodia and Bangladesh.
Asia's share of global textiles and clothing exports has grown significantly since the early 2000s, peaking at 58% in 2015, before declining to around 55% in 2019, the report notes.
"These trends were largely driven by China," the report says, "which experienced continuous export growth in both subsectors until 2015, after which its declining share in apparel exports was only only partially offset by an increase in the share of other Asian apparel exporters, particularly Vietnam, Bangladesh, Myanmar and Cambodia."
This could suggest that offshoring, rather than offshoring to lower cost destinations, took place during these years. Despite the recent decline, China's dominance remains unmatched with 34% of global GTF exports in 2019, followed by Vietnam (5%), Bangladesh and India (4.3% each).
In recent years, the industry has relied heavily on low labor costs to secure advantages in the global market, the report said. Real wages in the sector have increased in most countries, although working conditions remain generally harsh, including long and intense working hours, poor occupational safety and health, and violations of fundamental labor rights .
Gender pay gaps persist in the Asian garment sector. Female employees are overrepresented among low-wage workers in the sector, and countries with the lowest proportions of female workers also have the highest gender pay gaps in the garment sector. "Although women make up a significant share of garment workers, gender pay gaps persist and are particularly high in countries where there are wider systematic challenges in the labor market for women. In some contexts, female workers experience physical and sexual violence, due to the gendered nature of their workplace," the report says.
Although labor productivity in the Asian garment sector has increased over the past decades, it remains low compared to other manufacturing sectors. Few apparel-producing countries have managed to move up the apparel production value chain, with most manufacturers still engaged in low-skilled "cut-make-trim" operations.
The report's data reveals a positive association between labor productivity growth and wages in the sector, suggesting that investments in labor productivity can play an important role in increasing workers' compensation.
The full report, produced as part of the International Labor Organization's project on Decent Work in Garment Supply Chains and supported by the Swedish government, can be downloaded here.