Buying practices of global brands linked to abuse of garment workers in South Asia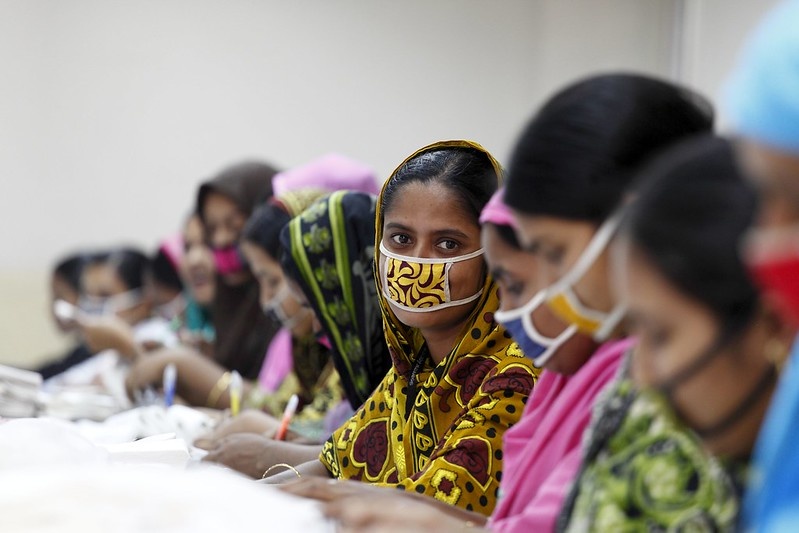 Several reports point to gross violations of workers' rights in garment manufacturing units in South Asia where most of the production of global clothing brands takes place. Women, who represent more than 80% of the sector's workforce, are victims of sexual harassment at work on a daily basis. IndustriALL affiliates in the region have repeatedly highlighted the problem, which has worsened over time as production meets the rapidly changing needs of the sector.
The abuse of women is systemic, where deep-rooted patriarchy plays a vital role in ensuring control over women on the shop floor. Abuse by men in positions of authority manifests itself in the form of gender-based violence and harassment. The abuse ranges from groping, touching, bending over, hitting, punching, slapping, hair pulling, offensive comments about their bodies, sex jokes, lewd gestures and offensive text messages, among others.
Violence is also used as a tool by management to ensure productivity. Women are constantly teased – for not working fast enough to meet the production target, but also for taking toilet breaks, their dress, their periods and their pregnancy. A member of an IndustriALL affiliate in India reported that her supervisor threatened her with rape if she did not finish the job.
Affiliates in Sri Lanka and Bangladesh reported that production managers and supervisors frequently seek sex with workers promising benefits such as pay rises and reduced workloads. Workers who refuse these offers face penalties, even dismissal, because of the power hierarchy between male supervisors and female workers. Dismissal threats are also frequently used to "discipline" workers in the workshops.
Anton Marcus, general secretary of IndustriALL affiliate, Free Trade Zones and General Services Employees Union, says:
"Workers are harassed and sexually abused not only in the workshop, but also on the way to work and in their hostel accommodation. We have seen that compared to their male counterparts, female machine operators are more criticized and mistreated by their supervisors. »
The stigma associated with reporting sexual harassment and lax enforcement of the rule of law deters workers from reporting abuse. This emboldens the perpetrators to continue the harassment. In cases where women report abuse, they are often penalized by management to set a precedent for other workers to toe the line. Either they are fired on frivolous charges, or they find themselves in the spiral of continued abuse where their goals are raised, time off denied, wages deducted on arbitrary charges. Sometimes they are transferred to precarious jobs. As a result, affiliates in the region find it extremely difficult to respond to cases of sexual harassment.
The rampant sexual harassment reported by our affiliates poses a risk not only to the workers who experience it, but also to the brands that source from those workplaces. They are ultimately responsible for working conditions in their supply chains and therefore must ensure that working women are safe in their workplaces.
Mechanisms are now in place, such as the complaints mechanism of the RMG Sustainability Council in Bangladesh and the national monitoring committees set up under the global framework agreement that IndustriALL has concluded with H&M, which can deal with sexual harassment issues, outside of available legal remedies. Affiliates educate their members to use these mechanisms to address sexual harassment. Brands will need to do their part by having these mechanisms respected and followed by their suppliers.
Apoorva Kaiwar, IndustriALL regional secretary for South Asia says:
"Addressing sexual harassment and gender-based violence is an integral part of the fight for decent work in supply chains. The responsibility for managing this toxicity in the apparel supply chain ultimately rests with the big retail brands that profit from the supply chains. Collective action is needed to ensure that brands take responsibility.