Finisterre uses the Aquapak water soluble garment bag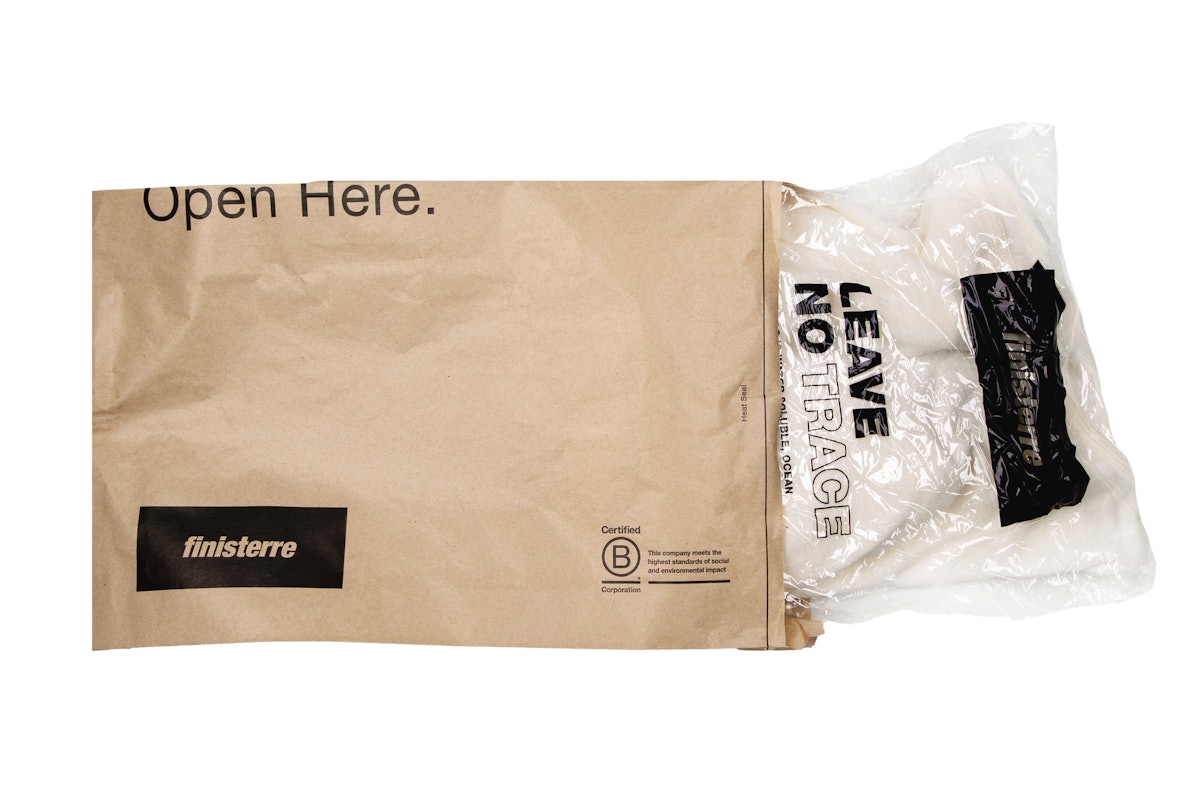 A new garment bag from British outdoor clothing brand Finisterre is literally said to be 'leaving no trace'. The company, which was the first in its market to be labeled a B Corp company, a certification that measures a company's overall social and environmental impact, has been, since its creation in 2003, convinced that it can make a truly exceptional company produce more responsibly and sustainably.
Finisterre is located on the cliffs of St Agnes in Cornwall, England, overlooking the Atlantic. Its products, including technical outerwear and products built to last, such as knits, insulation, rainwear and base layers, are "built for adventure and inspire a love of sea". That's according to Niamh O'Laoighre, product and technical development manager for Finisterre, who adds that it's in the company's DNA to seek innovation. "And it doesn't stop at our clothes," she shares. "This extends to all areas of the business, including packaging."
In 2018, when Finisterre achieved B Corp certification, it pledged to eradicate single-use, non-biodegradable plastics from its supply chain. "Plastic is everywhere," says O'Laoighre. "It's an incredibly useful material in its life cycle, but its end of life is a bit problematic. It is estimated that 8 million metric tons of plastic ends up in our oceans every year. And there are now thought to be more microplastics in the seas than stars in the Milky Way.
When the company heard about a supplier of biodegradable and compostable plastics Aqua pack, O'Laoighre says he had been looking for a solution for some time that could replace his polythene garment covers. "But we couldn't find the right one to tick all our boxes," she explains. "We needed something with multiple end-of-life solutions available to everyone – consumer, retailer, manufacturer – and most importantly, something that, if it leaked into the natural environment, would completely break down and not leave behind. no microplastics."
---
---
Aquapak's Hydropol polyvinyl alcohol technology resin ticked all of those boxes. PVOH, also known by the acronym PVA, is a naturally water-soluble, fully biocompatible and non-toxic thermoplastic. A drawback for packaging applications, however, is its thermal instability – an issue Aquapak says it has overcome with Hydropol.
"The key to exploiting this known and highly functional polymer lies in the processing and additive chemistry, which allows the production of thermally transformable Hydropol, unlike historical PVOH systems which were very limited in their application potential due to their thermal instability", explains Dr John Williams, Chief Technology Officer from Aquapak. "This stable processability has opened up functionality (strength, barrier, end of life) to the consumer packaging industry, enabling the development of packaging constructions that are both functional and recyclable/biodegradable. The judicious choice of an exclusive additive technology maintains the property of biodegradability in water.
According to Aquapak, Hydropol is completely soluble in warm and hot water, leaving no residue; is UV resistant; provides a barrier against oil, grease, grease, gas and petrochemicals; is moisture breathable; provides an oxygen barrier; is strong and puncture resistant; and is marine safe, fully biodegradable in marine environments, where it is harmless to marine plants and wildlife. In addition, the standardized shape of the Hydropol resin pellets allows it to be integrated directly into existing manufacturing processes.
---
---
According to Dr Williams, Finisterre's requirements for the new material were that it be sea safe, clear, printable and strong, as well as able to be processed on existing converting equipment. The development process for the Hydropol-based garment bag took nearly a year and involved tailoring the solubility of the resin to suit the application.
The resulting bag, branded by Finisterre as its Leave No Trace bag, is made from Aquapak's Hydropol 30164P single-ply blown film. The print on the clear bag explains that it is "water soluble, ocean safe and biodegradable, breaking down harmlessly into non-toxic biomass in soil and sea".
On its website, the company advises its customers: "If you're wondering how to safely dispose of your Leave No Trace bag, all you need is a kettle and your sink. The material decomposes quickly and harmlessly at water temperatures above 70ºC. If your bag ends up in the landfill, it will naturally biodegrade and leave no trace.
The bags can also be recycled, the company adds. "The material can be easily identified by sorting methods such as infrared and laser sorting and can therefore be separated and reprocessed," he explains. "In less sophisticated waste treatment facilities, the use of hot water washing allows Hydropol to be put into solution. Once in solution, the polymer can either be recovered or the solution is allowed to proceed to normal wastewater treatment or anaerobic digestion.
Following on from its Leave No Trace garment bags, Finisterre has introduced a new, particularly lightweight courier to replace the heavy kraft bag it used to ship its products. The bag was developed by Finisterre in partnership with Aquapak and converter PE group. Now known as the Flexi-Kraft Mailer Bag, the packaging features a layer of Hydropol 33104P co-extruded blown film laminated to kraft paper using a solvent-free adhesive. The Hydropol layer is said to give the bags strength and flexibility as well as tear resistance. The PVOH layer also allows the bags to be much lighter than pure paper envelopes and to be heat sealed for a better seal.
"Using 70% less paper than our previous mailbags, this new packaging combines lightweight laminated paper with our water-soluble non-trace material, to create a sturdy mailbag that can be safely added to your paper recycling. household and dissolves in the pulping process of paper recycling," the company explains.
"Coating our mailbags with this new material reduces bag weight by 50% while increasing paper strength by 44%, all with less material," he adds. "That means fewer resources used in both production and transportation."
Despite the fact that the use of Hydropol had a significant impact on the cost of packaging Finisterre – in the case of the garment bag, up to four to five times more than the cost of PE – O'Laoighre said the increase is one the company wants to support. "As a company committed to doing business better, this is a very important project that we believe in," she says. "We were incredibly proud to be the first apparel company in the world to use this packaging technology, and we're offering it as open source to other brands who want to use it, because together we can do more. big difference."