The textile and clothing industry still has a strong demand for foreign capital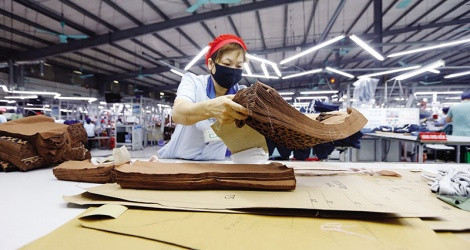 Data from the Foreign Investment Department (Ministry of Planning and Investment) shows that as of May 18, 2022, in the textile and apparel sector, there were 2,787 foreign direct investment (FDI) projects ) valid with a registered capital of 31.3 billion USD.
The arrival of FDI projects has led to a rapid increase in the production capacity and export scale of the textile and garment industry. In 2018, the industry's total export turnover reached more than USD 36 billion and in 2021 it was USD 40.3 billion, of which the FDI sector held about 60% of the total export value .
The scale of the industry is vast and an important link in the global supply chain, but there is a need to direct capital flows to the right "bottleneck" areas of the industry: fabric , yarn and ancillary production to take advantage of tariff preferences from 15 years. FTAs are in effect.
According to Mr. Nguyen Anh Tuan, Deputy Director of the Foreign Investment Department, the textile and garment industry lacks linkages along the value chain. Vietnam has a trade surplus for yarn and garments, but a large deficit for fabrics. The yarn produced is mainly for export, while locally produced fabrics meet only nearly 50% of demand, forcing Vietnam to import more than $10 billion worth of fabrics every year.
"This shortfall is a potential market segment to attract foreign investment in fabric and yarn production in Vietnam," Tuan said.
Data from the General Department of Customs shows that in 2021, the import of raw fabrics will reach $14.3 billion, up 20.6% from 2020, accounting for 60.0% of the total import value. of raw materials and industry accessories. Imports from the markets of China, Korea, Taiwan and Thailand increased sharply.
Completion of the national value chain
In fact, new generation FTAs ​​such as CPTPP or EVFTA all set requirements on rules of origin, and yarns and fabrics must be produced and used in Vietnam or FTA countries to be certified. for export rules and benefit from preferential rates.
Therefore, textile enterprises are forced to focus on development along the chain, forming a national value chain.
Regarding the level of foreign exchange expenditure to import raw materials and accessories, although the export turnover is over 40 billion dollars, raw materials such as cotton, fibers and fabrics are imported. In 2021, it stood at USD 23.86 billion, up 21.3% from 2020.
The four main markets for the industry are the United States, the EU, South Korea and China, which import nearly $24 billion worth of textiles and fibers from Vietnam annually (in 2021). These markets are applying many new regulations related to imported garments, such as the requirement that products be eco-friendly, chemical-free, and recyclable.
Without direct investment, it will be difficult for textiles and clothing exports to maintain third place.
"The textile and garment industry should selectively attract foreign investment and prioritize investment projects in advanced textile dyeing technology. It should not have negative impacts on the environment and should connect with domestic garment enterprises, form a chain of links along the value chain, and use science and technology solutions to green the clothing industry. textiles and clothing," said Mr. Nguyen Anh Tuan. .
Highlighting the increasing requirements of importers, Mr. Truong Van Cam, Vice President of Vietnam Textile and Garment Association (Vitas), noted that the production technology of yarn, weaving and the dye must meet green standards. It must reduce fuel consumption and water consumption, and ensure seamless connections throughout the supply chain.
Currently, most of the Vietnamese companies in the textile and garment industry supply chain that deal for big brands have received requirements for "greening" production, such as social responsibilities and environment and the reduction of emissions and waste. The new generation FTAs ​​in which Vietnam participates all have commitments to environmental protection and low emissions.
During the Prime Minister's recent meeting with the enterprises, on behalf of Vitas, Mr. Cam suggested that the government soon approve the development strategy of the textile industry and establish a large textile industrial park to solve the problem of fabrics, dye and chemicals to attract business. invest in fabric production.
Dau You