Transported via the Padma Bridge, garment shipments leave Mongla Port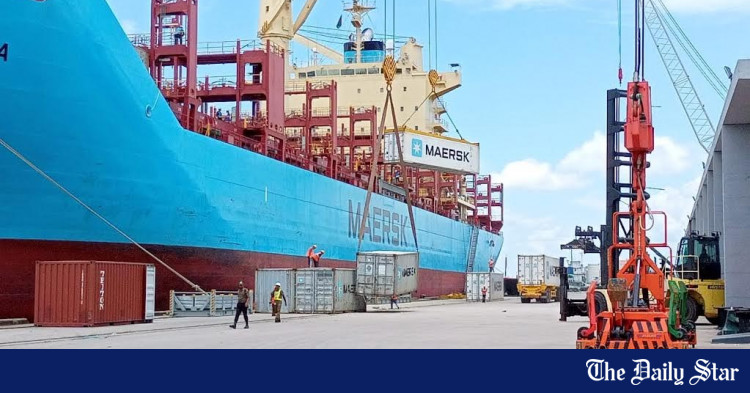 Photo: Collected
">
Photo: Collected
Marking new possibilities, a shipment of clothes left the port of Mongla. A Panamanian-flagged ship named "Maersk Nesna" left the port of Mongla for Poland at 11:30 a.m. today (July 28, 2022).
Traders started shipping clothes from Mongla Port after the opening of Padma Bridge.
According to Mongla Port Authority sources, a total of 27 garment factories including Fakir Apparels Ltd, Windy Apparels Ltd, KC Lingerie Ltd, Artistic Design Ltd, Knit Concern Ltd, Meghna Knit Composite Ltd and Sharmin Apparels Ltd are exporting their items via this ship. It offers various ready-to-wear products, including children's clothing, jerseys and cardigans, t-shirts and pants, reports our Bagerhat correspondent.
According to C&F and shipping agent Syed Zahid Hossain, there is a lot of wasted time when unloading or loading cargo due to pressure from ships at Chittagong Port. But in Mongla, there is no such pressure. Many additional exporters will be interested in using this port once these garments are exported.
Photo: Collected
">
Photo: Collected
After the opening of the Padma Bridge, garments are now being exported for the first time through Mongla Port, Port Manager (Traffic) Mustafa Kamal said. With this export, a new journey began.
The Mongla Port Authority is one of many entities in the southern region whose operations have expanded following the opening of the Padma Bridge on June 25 this year, said Md Liakat Hossain, Chairman of the Bagerhat Chamber of Commerce and Industry.
Due to the Padma Bridge, the distance between Dhaka and Mongla Port is now 170 km, while from Dhaka to Chittagong Port it is 260 km. At Mongla, ship handling is fast and secure. Time and money are saved at the same time as the distance to Dhaka is reduced, he said.
Less than a month after the inauguration of Padma Bridge, a new route for the export of garment products through Mongla Port has started, said Rear Admiral Mohammad Musa, Chairman of Mongla Port Authority.
These products are shipped directly from the port to Poland in containers belonging to several garment manufacturers. This import-export trend will become more widespread in the future, he added.