Uneven recovery in the garment industry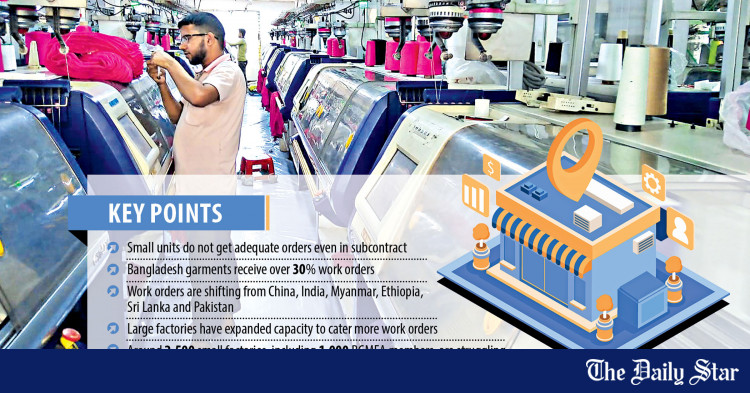 Bangladesh's apparel industry may be teeming with export orders from international buyers thanks to the ongoing turnaround in the global apparel supply chain, but it's the biggest units operating at full speed while the smaller ones were pushed into a corner.
More than 1,000 small members of the Bangladesh Garment Manufacturers and Exporters Association (BGMEA) and nearly 1,500 non-member factories are not getting enough orders to survive.
Worse still, small factories that have been lucky enough to keep factories running and are not receiving the expected prices.
Amid the business crisis, many small factories are already closed and many plan to do the same due to lower order flow and lower prices.
And this comes at a time when Bangladesh's garment industry has been receiving a record volume of export orders for several months now.
In line with the supply chain recovery from severe Covid-19 fallout, a lot of work orders are moving from China, Myanmar, Ethiopia, Vietnam, India and Pakistan to Bangladesh, thanks to competitive pricing, uninterrupted supply even during Covid -19, and worldwide safety and compliance in the leading major apparel unit standard.
But smaller factories have been crippled by poor compliance, weaker financial strength, lack of modern machinery, skilled workers and bargaining skills, and their inability to produce high-end, value-added garments. As a result, most of them are involved in outsourcing and producing basic garments.
For example, Md Saidur Rahman, Managing Director of Bakul Apparels Ltd in Savar, closed his factory in July last year as he was not receiving adequate volume of orders and prices.
His factory was shut down due to shortage of orders at the onset of Covid-19 in March 2020. At that time, he was paying Tk 26 lakh every month in wages to 150 workers. Later he was forced to sell machinery and close the factory.
Now he's trying to revive his clothing business with three friends.
Rahman made woven pants and knitted products mostly on a contract basis. "So the price was low," said the entrepreneur, who forayed into the industry in 2019.
As it was a small factory, it could not maintain high compliance and retailers and brands did not place orders with it directly. Moreover, he could not benefit from the subsidized loan from the government-sponsored recovery fund due to the banks' strict conditions.
"Small factories need special attention," Rahman said.
Mahbubul Alam Ripon, executive director of AR Knitting in Hemayetpur, also in Savar, says he produces 60,000 pieces of sweaters per month mainly as a contract manufacturer, but the order flow is not enough to make a good profit.
His factory lost Tk 2 lakh per month in wages for its 30 workers and other operational costs. If orders keep coming in steadily, it can make Tk 2 lakh to Tk 3 lakh per month.
In 2019 and 2020, when the business was boring, Ripon sold 12 out of 40 sweater making machines to bear the expenses and survive.
"However, the abnormal rise in prices of raw materials like yarn and needles is affecting the business," he said.
Shamim Ahsan, managing director of Bluetex Knitwear Ltd, a small factory based in Savar, has been able to attract orders as he has improved compliance. It employs 250 workers.
"But the price is not up to par," he said.
Ahsan has also faced many challenges, but he hopes he can return as he is now receiving orders.
The contractor ships clothes worth $2.50,000 per month.
"About 1,000 small member factories are in trouble because they are not receiving sufficient amount of work orders. We are providing them with technical support and have reduced the service charge to BGMEA so that they can get a little relief," said Faruque Hassan, president of the BGMEA.
Khondaker Golam Moazzem, research director at the Center for Policy Dialogue, suggested consolidating some small factories so they can meet bulk orders to expand.
"With the increase in order flow, the larger units have increased their capacity, so they're not placing a lot of orders with contractors."